Roto-Fuse Clutch
Reliable. Durable. Innovative. These words describe the Roto-Fuse Clutch. Since 1975, Cabat has developed and manufactured the mechanical torque-limiting clutch to ensure protection against a mechanical overload. Consider the Roto-Fuse Clutch as security for your investment.
Our unique design provides a torsionally ridge connection up towards a precise pre-set torque, where it will instantly disengage and rotate freely without ratcheting. As the Roto-Fuse clutch provides overload protection in one rotational direction, it is a solid drive in the opposite direction. Resetting the Roto-Fuse clutch is simply done by reversing its direction less than one turn.
Let our experienced engineering staff help you with your drive-line application.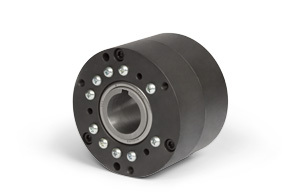 Roto-Fuse Clutch Features:
Uni-directional
Zero backlash
Synchronized – single position reset
Torque ranges available from 20 - 10,000 in/lbs
Non-ratcheting disengagement
Full-positive drive in opposite direction of torque protection
Externally adjustable
High-speed capabilities
Symmetrical design allows for clockwise or counterclockwise rotation
Roto-Fuse Options:
5 different sizes
½" – 2 1/4" bore ranges available with single keyway for a positive drive
Tamperproof
External switch plate